What is mold in the ventilation system?
Mold in the HVAC system is a common problem and big enough to keep building managers, plumbing professionals, and HVAC contractors up at night.
The first thing to understand is that mold is a natural phenomenon and can grow almost anywhere. It is a beneficial organism in nature. In nature, not in buildings. Give it a chance and it can contaminate your entire building, making the occupants sick before you even spot it.
What are the dangers you are exposed to?
Mold can be hidden, but its effects are not. May cause odors. It can make asthma worse and cause headaches, skin irritations and hay fever-like symptoms.
Repeated exposure can increase sensitivity to allergens or cause that sensitivity in the first place. It's not about winning a battle against mold; it is rather about waging a continuous war to keep this phenomenon under control.
Why do they form in HVAC systems?
Moisture, condensation and poor ventilation are the main factors that accelerate the development of mold in ventilation systems
Humidity
High humidity levels are the biggest cause of mold growth inside the HVAC system as well as inside the building. Although humidity problems exist throughout the year, the summer months are usually the time when natural humidity is highest. Bathrooms and toilets are the most exposed rooms.
The condensation
While HVAC units are operating, the system develops condensation through the air ducts due to moisture in the air. The cooling process also creates a lot of condensation as it naturally removes moisture from the air. Normally, this condensation drains out of the building via the condensation drain pan and condensation ducts, but if faults or blockages occur, the moisture cannot escape and backs up.
Poor ventilation
If the building is poorly ventilated, it causes pockets of stagnant moist air to form inside. Any steam or water that evaporates into the air inside the building creates more moisture that cannot be removed by circulation due to poor ventilation. These problems often occur when equipment is not used properly, malfunctions, or is undersized.
How do you know if your system is infested?
Here are some clear signs of mold in HVAC systems:
A strong musty smell throughout the building/house or at least in a few rooms.
The nose, throat and eyes feel irritated when you turn on the air conditioner or when you step inside an air-conditioned room.
You experience allergy symptoms including runny nose, rashes, watery eyes, tiredness and difficulty breathing when indoors.
Occupants of the building suffer from unexplained headaches that disappear when they go outside.
Nausea, fatigue and dizziness only when you are at home.
You can see mold growing inside intake vents, around air ducts and drip gutters.
air grille full of dust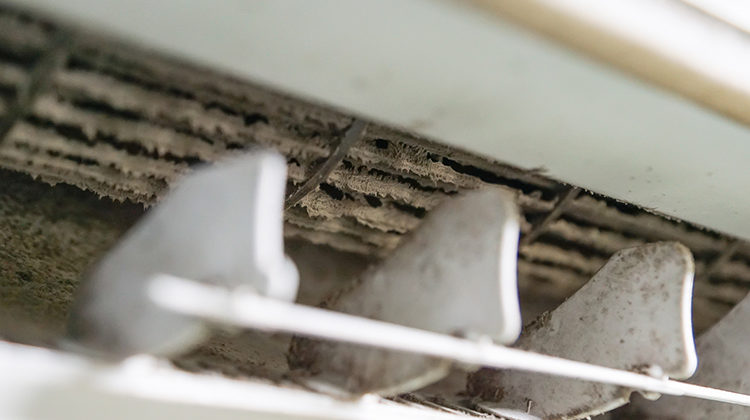 What steps should be taken when the HVAC installation is infested?
The first thing you should do is have a maintenance contract with a company that specializes in the maintenance of ventilation systems. But if for one reason or another you don't, here are some suggestions on what to do:
Act quickly
mold can begin to develop in less than 48 hours. Turn off the HVAC system until the problem is located. Equip cleanup personnel with appropriate protective equipment – ​​an N-95 respirator and goggles at a minimum
You need to check every part of the HVAC system to see if mold has grown
If your system is down for more than 48 hours due to problems, the last thing you want is to start the system and spread mold spores to other surfaces.
Solve the moisture problem
Beware of condensation or abnormally high humidity. Use wet vacuums to remove standing water.
Clean and dry non-porous surfaces to remove mold
Even dead mold spores can make people sick. For proper industrial mold control, use healthy cleaning practices and isolate each area as you clean it so you don't spread the spores to other parts of the building. Use a HEPA vacuum to keep the spores where you want them.
Disinfect HVAC coils and hard duct surfaces
For example, chlorine bleach kills mold, but if not used correctly, it can cause other problems. Use a specialized coil disinfectant labeled for HVAC use to eliminate mold at the source on HVAC coils, thereby reducing the spread of mold. Professionals should consider a coil cleaning system to ensure proper cleaning occurs every time.
Replace or discard anything that cannot be cleaned
Porous materials such as drywall, carpet, and ductwork may need to go if not properly dried. Filters and wet insulation must be replaced immediately. Do not try to dry them.
How to prevent mold in HVAC systems
Carrying out the maintenance as well as the periodic analysis of the air quality in the building's ventilation system saves you from future more serious problems.
Periodic check of drain trays.
If the drain trays are not tilted and cleaned regularly, the water will not be able to drain through the deep seal trap and will accumulate in the drain basins. Water and microbes in drains will lead to mold growth.
Replace air filters regularly.
Damp and dirty air filters are ineffective at capturing mold spores and other contaminants. If you don't change them regularly, usually once a month, these particles will contaminate your ventilation system.
Apply an HVAC mold inhibitor.
Mold inhibitors can prevent mold growth in HVAC systems. The inhibitor should be applied to all heating and cooling components following the manufacturer's instructions.
Use a disinfectant.
Before applying mold inhibitor to your HVAC system, you must first treat it with a disinfectant. Look for a disinfectant that is labeled for use in HVAC systems.
Keep ducts dry.
Some ducts in the HVAC system can harbor larger amounts of moisture and mold. Request an HVAC system check to find out which ducts are most affected. Clean and repair ducts and replace water damaged components.
Check the air intakes.
Air vents that are near areas where organic material accumulates will carry microbes and contaminants into the HVAC system. Be sure to keep the areas below the air intakes clean.
Make sure you have the humidity and moisture level in the building/dwelling under control. The less moisture you have building, the less mold.